A citation describes your source in a way that would allow someone else to find it. This typically includes the author's name, title, and publication information.
The style will (among other things) dictate how to document your sources. Different disciplines prefer particular styles (such as MLA for the humanities).
Use in-text citations (or references or parenthetical citations) within your work to briefly give credit to the source of the information you're sharing, and to refer your readers to the complete citations you provide elsewhere.
Some styles allow footnotes or endnotes to credit your source by using a superscript number to refer to the complete citation at the foot of the page or end of the paper.
Your works cited page lists citations for the sources you refered to in your paper or presentation.
In your bibliography, list the complete citations for all the sources you consulted while you did your research, even if you didn't reference them within your paper or presentation.
For an annotated bibliography, write a note (an annotation) after each citation describing the source in terms of its content and usefulness.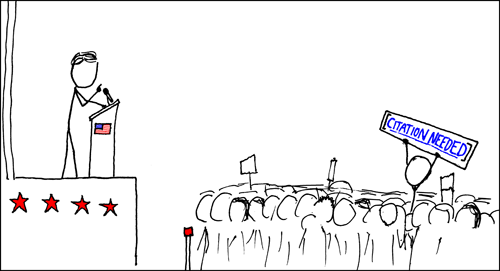 Image courtesy of xkcd

When you use information (data, images, ideas, quotations, facts, etc.) in your papers (or presentations, videos, podcasts, etc.), you need to make reference to the original source. In other words, you give details about where you found the information:
To give credit where it's due.

To help your audience find the same information sources (it might help their own research).

To show there's support to back up the ideas you present.

To establish your authority and credibility (making you look smart and trustworthy by showing your audience that you did your research - you're not just spouting uninformed opinions - and that you got your information from good sources).

To avoid plagiarism, which can have nasty consequences.
What Not to Cite: Common Knowledge
Tara Severns created this guide and Windward Community College Library makes it available under a Creative Commons Attribution-NonCommercial License. You may reproduce any part of the guide for noncommercial purposes so long as you give credit.
You can license your works via Creative Commons to foster sharing of educational materials.